Thank you Shilobrats for making the '60's Reunion 2018'
A special and memorable event!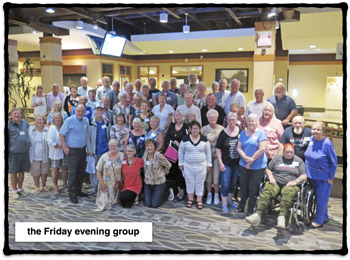 Friday night Meet & Greet
Despite being on a major long weekend, the attendance for the Reunion was a delight. Around 100 Shilobrats from the 50's, 60's and early 70's travelled from both east and west coasts and in between to gather one more time to celebrate those early friendships, and to see if that's really your picture on Facebook. The Friday night Meet & Greet was outstanding, and the Main Event on Saturday with performances by Greg Leskiw with Swing Soniq, and Fabulous George (Don Jordan) and the Zodiaks was the highlight. It was like being at the prom again!
The Sunday bus trip to Shilo, and those who drove there, met up with local Shilobrats for a mini reunion BBQ. We then toured the PMQ's and other parts of the base to see what changes have happened in 50 years.
With so many coming from out of town and staying at the venue hotel, the Reunion was in full swing before, in between and after all the Reunion activities. It is remarkable that friends and schoolmates are able to meet with such ease and familiarity 50 years later.
A Special Edition about the Reunion with photos and stories is being prepared and will be posted soon, in the meantime visit ShiloBrats home page for a changing photo preview leading up to the Special Edition.
If you missed Part 1 of the Reunion 18 Slideshow, you can find it here.
ShiloBornBrats
Shilo was a special place for many of us in our early years, and for some, Shilo is a special place because you were born there, or in Brandon to parents posted in Shilo.
ShiloBornBrats has been created to give recognition to our home grown brat pack by assembling a page of trivia for each year we have a ShiloBornBrat name for.
If you or a brother or sister were born when your family lived in Shilo, and your name does not appear in that year, please contact ShiloBrats to be included, your name and year will be added.
*Updated ShiloBornBrats pages for the following years: 1956, 1958, 1960, 1961, 1972
Thank you for continuing to support ShiloBrats.com