Shilo during WW2...continued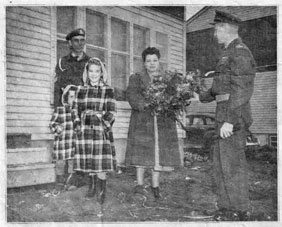 Following the Second World War, Shilo was designated as Home Station of the Royal Regiment of Canadian Artillery in 1947. The A35 Can Para Trg Centre moved to Rivers in 1947 in order to be co-located with the Canadian Joint Air Training Centre, where it stayed until it moved to Edmonton in 1970. Parachute drops and a great deal of Fighter Group Air training was conducted on the Shilo ranges from Rivers until 1970. The main training drop zone was Proctor Field. The main bombing range was located in what is now Area E8.
Construction of PMQ's began sometime in 1948, and by April 1st of 1949 families began to move in. The first PMQ residents were Sgt. J. Hartlen with his wife and two daughters. The first twenty PMQ's were subsequently occupied by BSM W. Hardon, Sgt. A. Ball, RSM W. Seed, SM (IG) R. Nicholls, RSM R. Lawson, Sgt. A. Crookes, RQMS J. Weir, Sgt. L. Vallee, MM. H. Seville and R. Grey, BSMs C. Williams, K. Buxton and T. Lyons, Sgt. J. Boileau, Bandmaster (WO1) H. Tidman, MrGnr. A. Ford, BSM G. Patterson, QMS R. Bruce, RQMS R. Nicholls, QMS A. McLeod and BSME D. Cartwright.
By April of 1950, a total of 246 units were occupied with another 250 under construction. The first 250 units were heated by coal. The remaining units were heated by oil heat, and upon their completion the earlier units were converted to oil heating as well. For the first time, Shilo was given street names rather than grid references, and true civilian life began in Shilo.
In August of 1962, the newly formed 2nd Surface to Surface Missile Training Battery moved into the camp from Picton to bring all phases of artillery training under the control of the Royal Canadian School of Artillery. A massive influx of troops began, and Shilo was to reach its zenith in size and activity. Many of us arrived in Shilo during the years 1962 to 1964 because of this program. Proper schools were built. The Canex was moved out of L25 and into a mini shopping mall. The Teen Center was built, and Shilo as we knew it was formed.